About

Us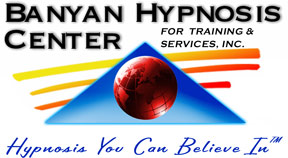 We, at the Banyan Hypnosis Career Training LLC strive to bring the latest, most reliable and effective hypnotic techniques to our community (i.e., 5-PATH® and 7th Path Self-Hypnosis®). If it starts with "hypno" we are probably engaged in bringing it to you (e.g., hypnosis, hypnotherapy, hypnoanalysis, hypnotic and HypnoBirthing®).
The company slogan "Hypnosis You Can Believe In!" is trademarked by the Banyan Hypnosis Center for Training & Services, Inc. and cannot be used by others.
Mission

Statement

It is the purpose and mission of the Banyan Hypnosis Center for Training & Services, Inc. to provide hypnosis services and education. We provide modern, professional, hypnosis and hypnotherapy services to the local area where we have an office. We strive to educate the community at large about the use of hypnosis and hypnotherapy.

It is our mission to train individuals and organizations in the professional use of hypnosis and hypnotherapy. This training is conducted locally, nationally and internationally.

As we provide services and training in our field we also strive to add to the knowledge of our field by developing advanced techniques that benefit the community and the professionals whom we train.

It is also our mission to produce a growing list of useful materials that will meet the goals of all of the above, while promoting the field of hypnosis, both as a tool and as a profession.
Nationally
Certified Hypnotherapists
Because of the backgrounds that each of our hypnotherapists bring to our organization, we provide hypnotherapy for most issues for which hypnotic treatments are appropriate. Some examples include, hypnotherapy for weight loss, stop smoking, relaxation, stress management and many medical issues that have a psychogenic or stress component (i.e., sexual issues, premature ejaculation, obsessive compulsive disorders, sleep problems such as insomnia, pain management, etc.).
Our school for training hypnotherapists runs right along side our service center. This allows our students to study a highly successful full time hypnotherapy provider. Our school is really the ultimate in accelerated hypnotherapy training providers. Here are some reasons why:
NGH Certification
Small Classes
Supervised Practice
Learn Our Exclusive and Virtually Universal Approach To Hypnotherapy - 5-PATH®
Learn Our Exclusive Holistic Mind-Body-Spirit Approach To Self-Hypnosis
When you come to the our school, you are attending a nationally and internationally renowned training center. We have trained Hypnotherapists from across the country and as far away as Singapore, New Zealand, South Africa, and there are more locations coming up. For information about bringing our training to your area click here.
Click here to see photos of a class in action
It is Easy to Come to Our Center from these surrounding Dallas, Texas Cities
Richardson
Allen
Sachse
Garland
Addison
Wylie
Rowlett
Frisco
The Colony
Carrollton
University Park
Farmers Branch
Highland Park
Rockwall
Little Elm
Privacy

Policy

Our Commitment to Online Security

All online purchases are conducted via an encrypted secure server to ensure that your personal information is kept personal. Personal information regarding any online transactions are only handled by Banyan Hypnosis Center staff.

Client Confidentially is Required By Law

Client confidentiality is required by Texas State Law, and the Banyan Hypnosis Center keeps to the highest standards in this regard. Client records are only handled by our staff, which are all required to sign a confidentiality agreement. Your personal information may not be released to any outside agency or individual, unless you have given written permission.

However, there are certain limits to confidentiality, and as a result the Banyan Hypnosis Center may be required to release information to appropriate governmental authorities under certain circumstances, including a legal require for lease of information because of a subpoena or legal investigation, or when we receive information that suggests possible harm to others.

Personal Information Collected Online

The Banyan Hypnosis Center web site, www.HypnosisCenter.com may from time to time offer the ability for its visitors to sign up on a mailing list, or join discussion groups. We do not share this information with any other individual, company or agency.

Automated Computer Tracking Such as Cookies

Our web site is not set up to use cookies. We only use our site logs to gather data that indicates traffic coming to our site. This information is gathered in order to determine where our visitors are coming from so that we may better serve our visitors and promote the site.

A cookie is a record that your computer keeps on your browser. Because our site does not use cookies to identify you, you may use our web site with your browser set to reject cookies.


Learn About Our Namesake