Some photos on this page do not contain all of the students from each class.
All photos taken at our office or school unless noted otherwise
All feedback from students is used with their written permission.
Of course, your results may vary.
Congratulations to our recent Banyan Hypnosis Career Training
Graduates

!

Contact information for our graduates can be found at
www.hypnosis-directory.com
Banyan Professional Hypnosis

Training Program
July 24 - 30, 2022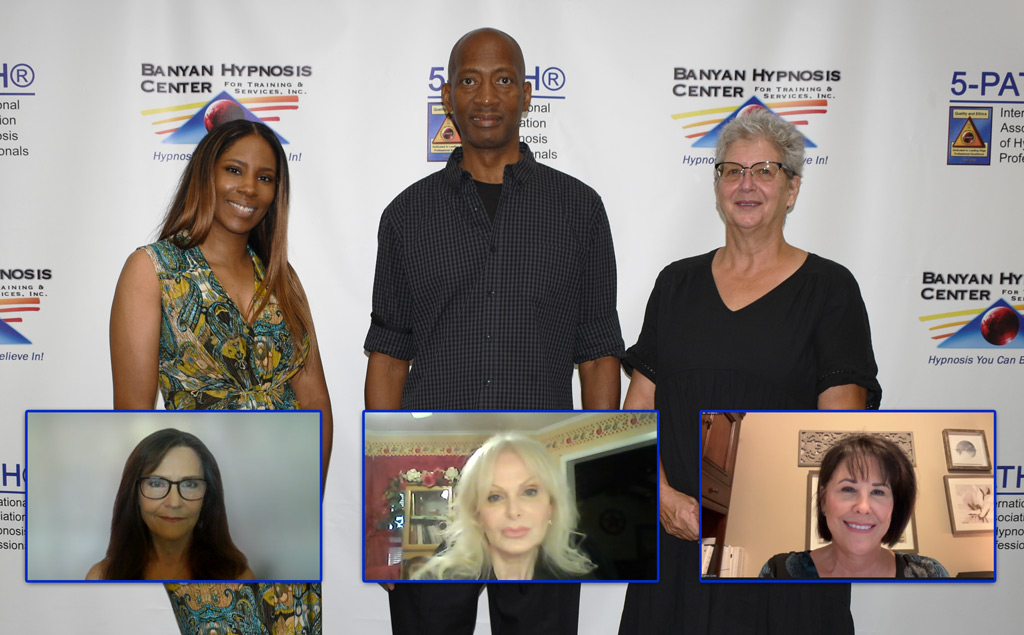 Instructed by Calvin D. Banyan, MA

National Guild of Hypnotists, Board Certified Hypnotist (BCH) and Certified Instructor (CI) and
Banyan Hypnosis Career Training LLC Instructor
This has been the best class experience as well as the most challenging for me. I laughed, I cried and in the end I got what I came for. This course went above and beyond what I expected. Thank you!
- Edina Isaac, Carrollton, Texas
"This is a comprehensive training program for those serious about enhancing their skills as a hypnotist or looking to become one. I found the training excellent. The backup of providing ongoing support, materials, videos etc. sets this apart from other programs. Real-time feediate coaching is extremely helpful in building skills and confidence.
- Jamie Cooke, Sparks, NV
Intense, practical training that exceeded my expectations. The content and classwork were well organized and engaging, with lots of personal practice and coaching. I'm also impressed with the support systems in place to help graduates continue advancing their skills, knowledge, and professional network.
- Terri Temple, BA, Oakland Park, FL
This course has been life changing and transformational. I believe if you are looking to not only change your personal life, but your professional life, this course if for you! Cal is thorough and is an expert in his field, and his teachings. I will forever be transformed. Thank you for all you have done!
- Lesley Hersom, Willis, TX
This class has been life changing for me, a very transformable experience. I would highly recommend this class to any and everyone. It goes beyond Hypnosis on the surface but digs deeper into the spiritual and helps you through hypnosis to get the cleansing that you need to live a more productive life. And that allows you to be there for others and help them to find their journey. And I feel that I am now on the highway to helping others through the Banyan Hypnosis program. Thank you!
- Andrew Latson, Carrollton, TX
---
Banyan Professional Hypnosis Training Program
January 2022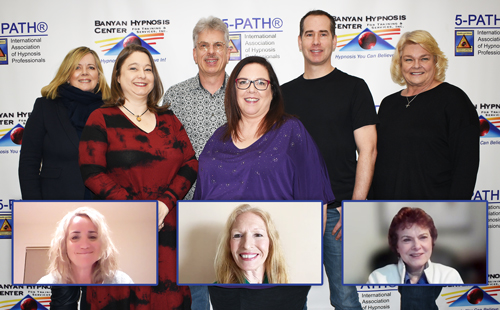 Instructed by Calvin D. Banyan, MA

National Guild of Hypnotists, Board Certified Hypnotist (BCH) and Certified Instructor (CI) and
Banyan Hypnosis Career Training LLC Instructor
I came here expecting to learn to help others (which I did) however, I didn't expect that the work I did would lead to self-discovery! That alone would be worth the cost of the course 10X over! Thanks Cal & Maureen!
- Tim Thompson, B Sc. D.C. Prosser, WA
An incredible experiential workshop that allowed for direct acquisition and honing of skills. Highly reinforced with exercises. Instructor with exception knowledge skill and expertise, class exceeded expectations.
- Gregory Brown, MD. Las Vegas, NV
This course was wonderful. I was looking for a structure to be able to teach spirituality and this is perfect. I trained previously in hypnosis, but this is a completely different and much advanced level of training received. It is wonderful to learn about age regression and put it in to practice. Thanks Cal, for an amazing and wonderful learning experience. (Thanks to Maureen and Tasha, too!)
In deep gratitude!
- Margie Burns, MA, MBS, Navan, Meath County, Ireland
This class was a truly amazing class. The information was delivered in a logical way – and then put into practical use. The practice sessions were so helpful in building strength and confidence in our new skills. 7th Path transformations – simply amazing. Hypnosis at a high level!
- Melissa Shute, MS, LPCA, BCH, No. Grandby, CT
Great learning a proven process that works quickly and efficiency. Gives me the confidence I need to help my clients create the change they choose. 7th Path is a whole other level. Life changing. So simple yet profound. Thank you, Cal!
- Whitney Christina, BA, Conroe, TX
My heart is full and I have learned so much in the last 7 days. I truly feel I have the confidence and skill to go out of this class and do 5-PATH and 7th Path.
7th Path was incredible and I recognize what a gift to us it truly is. I'm grateful that Cal is following his calling so we can learn to do the same.
Maureen, thank you for your lovely hospitality and sweet spirit.
- Donna Broadwell, LMT, CH, Sherman, TX
This course exceeded my expectations. The course content is life changing both for the practitioner as well as for the client. I can't encourage someone enough to take the leap to take this course. It will change your practice, life and that of your clients. Honestly, isn't that what we are here for, to be agents of positive change?
- Sonya DeWitt, MA., LMHC, Cheney, WA
Easily one of the best courses I've ever taken, in terms of presentation, materials, experientials…really everything.
Cal is a fantastic teacher. He keeps things moving yet covers everything in depth. He respects his students and it's obvious that he is passionate about their success.
Tasha was great handling everything technical, and very patient with this tech-challenged student!
Maureen is very gracious and knowledgeable and gives students everything they need to know about setting up business in a very straight-forward and concise manner.
Everyone was great about answering questions, even those that were asked multiple times!
I have taken a LOT of classes, in formal college settings as well as professional training and this is an amazing training class. It was a lot of work and material but fun, exciting, educational and motivating.
Ongoing support is huge; you really feel like a part of a close-knit community where everyone is interested in each others' success as the best hypnotists and hypnotherapists in the world.
- Jennifer Jones, BA, MRE, Palm Bay, FL.