Click Here to Schedule a FREE CONSULTATION Using Our Easy Online Scheduler or
CALL: 469-989-8092
Learn Hypnosis Online - Get the Professional "Hands-On" Training You Want from Your Home or Office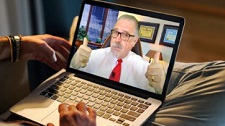 Participate from your home or office and get the professional training you want without incurring travel and lodging charges!
The National Guild of Hypnotists says this about our new Live-Over-the-Internet, "hands-on" hypnosis certification training, "This unique training meets NGH "hands-on" requirements since the state-of-the-art technology actually places the student in class to participate in discussions, and also to demonstrate his or her ability to do what is learned in class, all through on-line interactive video."
Here is our schedule for the upcoming hypnosis certification courses. Available by coming to our center or live online.
NGH Approved Banyan Professional Hypnosis Training Program
Have a training experience that is as good or even better than being in the class!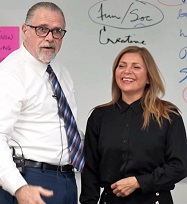 Camera placement gives you a "front row seat." You will see the instructor and we can see you.

Really hands on because you practice at the same time the class does with an online practice partner.

Your practice of the technique will be supervised by the instructor, just like with the students in class. So, you can learn what you are doing right and the instructor can help you make immediate adjustments if necessary.

Totally interactive. If you have questions you can ask them and get them answered just like any other student in the class.
FEEDBACK FROM THE BANYAN LIVE CERTIFICATION COURSES ONLINE STUDENTS!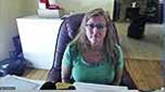 I took the course online and found it to be a very intensive and useful, both personally as well as for my current and future clients. The instructor, Cal Banyan was a very knowledgeable, passionate and motivational speaker. He continuously engaged me through the class, the 7th Path self-hypnosis program and 5-PATH program have unlimited benefits for people all over the world. I would especially like to recognize and thank Maureen, Marianne and Abby and the IT staff who continuously made sure that I was able to participate in this course online. The preparation meetings prior to the course ensured my equipment was going to function well. I didn't want to miss a moment! Debra George, OTR/L, ATS, CMT, RN., Oxford

I've been certified in 5-PATH by DVD training for 8 months. This week I participated in the Week of Power Live Online to receive my 7th Path teacher certification and learn additional tips and tricks from the live training. Cal's staff made the live online experience seamless. It was just as great as being in an actual classroom right down to the mentored practice times. If you want to be an effective and efficient hypnotist who gets real, lasting results, 5-PATH and the Week of Power are for you! Penny Chiasson, CRNA, BCH, Portland, CT.

I have to say, a man is lucky and blessed when someone with passion has crossed his path. Cal is that Passionate man, truly giving relentlessly so all his students can achieve success. He orchestrates his time so effectively blowing your mind with useful practical information. The course was amazing, but, even more so, you will be confident to begin your practice right away and be successful. Finally, if you choose to teach 7th Path, you truly will be of service to your community where normal everyday people with everyday problems or goals can do 7th Path and set themselves free to create a life that fills their needs, wants and desires. Thanks, Cal! Tom D'Ancona, BA., Easton, PA.
Professional, Dedicated Classroom for Onsite Students
You will have the best "seat" in the house because of the 360 degree camera placement. The 360 camera is place at the front of the classroom so you can see the instructor and all of the students, and you will be able to hear them and talk to them as well!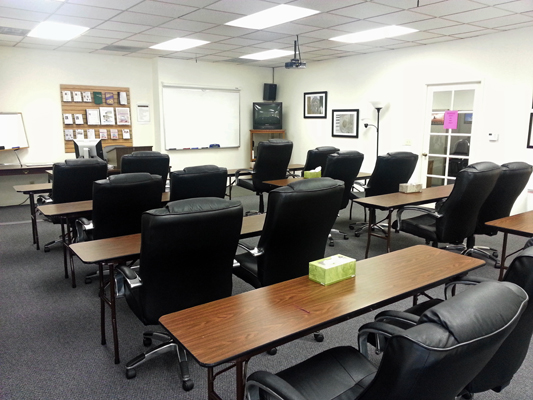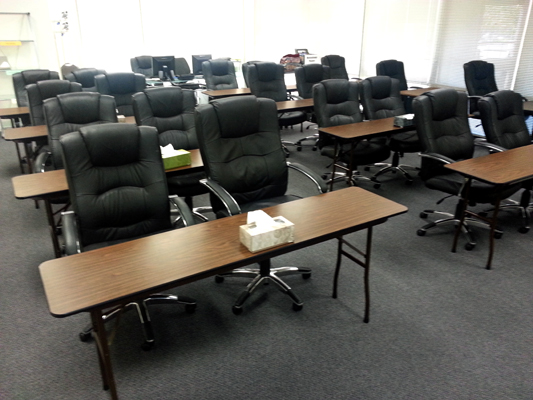 Take the big step. You are now 100 hours of training away from joining the profession of hypnotism. That's right and you don't even need to leave your home or office to receive this professional training.
It is tested and ready to go. Now you can be a part of this class and receive your NGH Hypnotism Certification with 5-PATH® and 7th Path Self-Hypnosis®
We offer more than Internet technology; this course is an adventure. Don't enroll in our certification course unless you are ready to really work, learn a lot and maybe even experience a positive personal change in your life.
Is this Online Course Right for You?
It is the perfect online hands-on class for those who want to join the profession without having to take the extra time to travel to our location, and who do not wish to spend the extra money on food and lodging, as well as those who simply find it difficult to get away from the home or office long enough to go to a distant location to take a course, while at the same time wanting the best hypnosis training possible.
Questions? Call our office at 469-989-8092. Then I'll see you online or in class. This course is best suited for those who are comfortable working on a computer. Learn more about our online hypnosis training program.
COMPUTER & INTERNET REQUIREMENTS

TO PARTICIPATE ONLINE

Internet Connection
High Speed Internet

System Requirements
Desktop or Laptop computers only (Tablets, IPads or cellphones are not acceptable.) (Must have Webcam capabilities)

Printer & Scanner
Have within reach to print out class handouts

Software
Must be able to use Zoom:
MS Word
Adobe Reader

Operating System
Windows 10 or newer

Web Browser (free online)
Mozilla Firefox (latest version)
Google Chrome (latest version)

**It is generally required that you enroll for online participation at least 10 days in advance of the course start date, this will enable us to check out your internet connection and computer equipment.

However, exceptions may be made on a case by case basis. If you would like to participate in this course ONLINE, and are unable to give us 10 days' notice, we may accept your enrollment on a conditional basis. Since we may not have the time or ability to test your internet connection or your computer equipment before the start of class, we cannot guarantee that your system will work correctly for class. If we find that your internet connection or equipment is not working well enough to give you a good experience, we will have to withdraw you from the course (unless you can get it up to standard right away). Hence, we highly recommend the 10 days early registration. With this in mind, register as early as you can in order to give us the most time possible to check out your system to help ensure we have the best learning experience possible.

NOTE: In order for you to have the best experience in this class, you need to have the minimum requirements as listed above.