Click Here to Schedule a FREE CONSULTATION Using Our Easy Online Scheduler or
CALL: 469-989-8092
Information for Online Students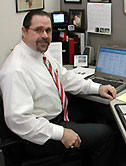 Even though the Live Online version of our course is interactive and hands on, there are some special considerations that each Online student needs to be aware of. Here is some additional information that will be useful to the Online student or individual who are considering going through the course this way.
Keep in mind that you are expected to participate in the class just like the in-class students do.
You are expected to attend the entire course.
You will be doing the same work, including reading, practicing and answering questions.
To successfully participate in the course, make sure you have a functioning computer with a webcam with microphone and a good set of speakers. You will be practicing online with your fellow students each day, and having proper equipment is essential for successful practice.
It is your responsibility to ensure that you are not disturbed during the course.
In the event that you have any technical difficulties call our office immediately, we will record any portion of the course that you may have missed while you were having difficulty and make that portion of the class available to you.
You will need to set up a meeting with our technical staff before the start of the class to ensure that your camera and computer are working properly.
As they say, "Patience is a virtue." Sometimes unexpected technical problems can arise, although unlikely. If this happens, like we said above, we will make sure that you have all of the material that you need, and get everything that you need from the course.
Online courses such as this are not for everyone. It is best suited for those who are comfortable with computers and are generally able to keep themselves on task.
We encourage you to participate in the class just as if you were sitting with us on site. If you have questions, you have the right to get your questions answered just as much as any other student. We intend to take very good care of you during the class. As we like to say, "We believe that our success comes from your success!"
Thank you for considering our Live Online training program. We are very glad to provide you with this information about the program. If you have any further questions, please call our office.
Here is our telephone number: 469-989-8092.
Cal Banyan, MA, BCH, MCPHI
Board Certified Hypnotist
5-PATH® Hypnotist