Click Here to Schedule a FREE CONSULTATION Using Our Easy Online Scheduler or
CALL: 469-989-8092
Hypnosis Class

In Session

This is a photo of one of NGH Hypnotherapy Certification courses in progress. Here students are watching Calvin Banyan, MA, CI, CH explaining Age Regression Therapy.

Along with live instruction and hypnosis demonstrations, our students benefit from viewing videos of actual hypnotherapy sessions (with client consent of course) demonstrating techniques such as instant and rapid hypnotic inductions (including the always-popular, Banyan Blast Off Instant Induction), use of convincers, hypnotic testing methods, age regression, forgiveness therapies and waking hypnosis techniques). Every student gets the opportunity to experience both hypnosis and self-hypnosis during the course.

Viewing videos of actual hypnotherapy sessions, makes up about 6 hours of the course. Viewing these videos, helps the class to move beyond a dry theoretical approach into real life application of the techniques. Videos used in class were made with the consent of the client, for use in teaching hypnotherapy.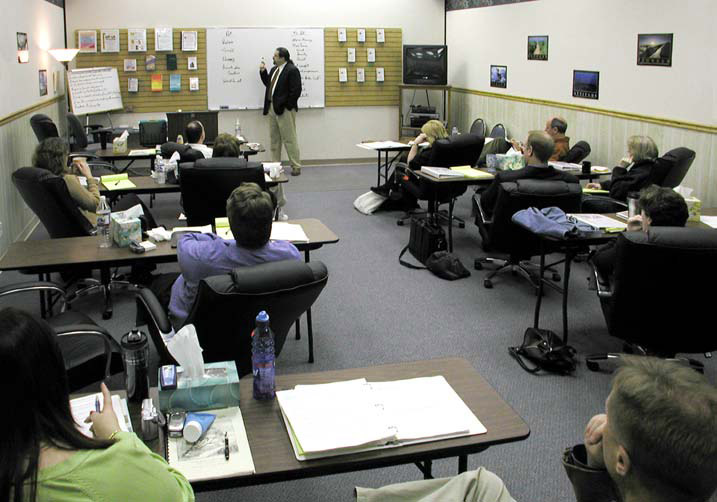 Click Here to See Calvin Banyan Teaching the Class, and Students Practicing Techniques!
Our Students Come From A Wide
Variety Of Backgrounds & Education
You do not have to have an advanced degree to become a Certified Hypnotherapist. This class is filled with students from across the country, and from a wide variety of backgrounds. For example, one student has a GED, others have or are working on undergraduate degrees, while others have graduate degrees such as the Chiropractor and two MD's, one from the USA and one who is Russian. Our Russian MD was trained in hypnosis and medicine in the Soviet Union. At the end of the class, he told us that he learned more about hypnosis in our 9-day class than he did in years of studying and practicing in hypnosis and hypnotherapy in Russia!
Our students come from a wide variety of backgrounds, but share the common interest of learning the latest techniques developed at Banyan Hypnosis Center for Training & Services, Inc. These students will graduate trained in both classical techniques, plus having a specialization in 5-PATH® and 7th Path Self-Hypnosis®.
There are also rooms set up for practicing the skills that you will learn. You will graduate with the confidence to readily use these skills. Call us for free information and to learn more about the courses that we offer.